A Vetter fairing will fit almost any bike. The trick is finding the correct mounting bracket to fit your bike. See VETTER Help for installation instructions and wire color codes for Kawasaki. If your bike is newer than 1989, we are unable to find a mounting bracket for you. The fairing mounts to the frame so the fairing is stationary while the handlebars are free to turn the bike.
---
Wiring Harness for Vetter Windjammer Fairings


click to zoom photo None available.
Fits Vetter Windjammer II, III, IV, V & SS fairings only from the 1970's - 80's. 9-pin wiring harness plugs into the left side connector in fairing then connects to wiring inside the headlight. See harness repair kit below to make or repair your own.
---



Vetter Windjammer Electrical Harness Repair Kit
Add to Cart $19.99
Replace that loose, rusted or broken wiring harness connector. Includes: male and female connector blocks and 9 male wire connector pins & 9 female wire connector pins as shown above. For a Vetter Windjammer wiring schematic and color codes, see Vetter Electrical.

For classic Vetter Windjammer fairing models:
Vetter Windjammer II
Vetter Windjammer III
Vetter Windjammer IV
Vetter Windjammer V
Vetter Windjammer SS
Vetter Vindicator
Kawasaki fairings
---
Vetter Fairing LOCK with 2 Keys
Add to Cart $19.99



Easy installation, assemble to fairing as shown in photo. Warning: Do not remove the key until lock has been installed (the pins and tumblers will fall apart). The lock fits fairing compartment, trunk and saddlebags. Now keyed alike with dust shield.
---


Chrome Trim
Add to Cart $11.99
Protects the outer edge of the windshield, plastic or metal. To install, just push-in and trim to fit, no adhesive required. May fit other windshields, too. Also can be used to accent trunks, gas tanks, fenders, seats, saddlebags and automobiles. Grips to metal or plastic 1/8" to 3/8" thick, adhesive is not required. Just enter the quantity to get the number of feet you need. This is the same type of trim found on the classic automobiles from the 1960s-70s.
---

click to zoom photo
Vetter Windshield Screw Kit with Clips
Add to Cart $19.99
This kit includes: All original screws, nuts, washers and two metal clips as used on all Vetter and Kawasaki fairings. Exact reproduction. Beginning in 1978, all Windjammers used replacement windshields utilizing (2) black metal clips at the top instead of two upper bolts. These clips prevented the windshield from cracking at this point from road vibrations. Note: using steel bolts, washers and nuts can damage the windshield. Can also be used on other fairing windshields like, Kawasaki and Vindicator. Some of the other earlier windshields do not utilize the metal clips.
---
Vetter Windjammer Fairing Chrome EDGE TRIM Kit Add to Cart $149.99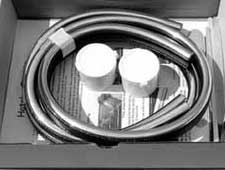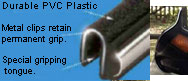 Protects the outside of the fairing with the genuine edge molding kit. Replace that scuffed up chrome edging with a new replacement. Easy installation, no cutting necessary, comes with enough adhesive and trim to do both sides of the fairing. Adhesive is included. New Genuine exact pattern and texture chrome fairing edge strips, suitable to re edge any Windjammer from 1973 on. This edging is brand new, gleaming, soft and supple. Kit includes instructions and enough adhesive (3 oz. glue, 1.5 oz. catylist) to install edging on one fairing. Hotcha adhesive is formulated to bond the materials together that make up a Vetter fairing. It does not "dry". It "sets up" in about 15 minutes because it is "2-part" Hotcha Glue has never been available at stores and is available only here. Fits Vetter Windjammer II, III, IV, SS & V fairings only.

---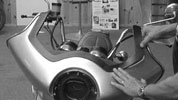 Windjammer Windshield Foam Tape (gasket)
Add to Cart $59.99
Replace that rotted genuine foam gasket and prevent excessive vibrations. 2-piece foam gasket.

---
Vetter Windjammer Chrome EDGE TRIM Kit for Fairing and Lowers Add to Cart $189.99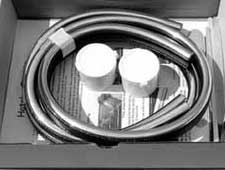 Protects the outside of the lowers. Same trim as above plus chrome trim for the Lowers. Replace that scuffed up chrome edging with a new replacement. Easy installation, no cutting necessary, comes with glue. See instructions above. Fits Vetter Windjammer II, III, IV, SS, V & Vindicator fairings only.
Read the instructions for installing the Vetter Edging Kit on either the fairing or Lowers.
---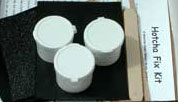 Hotcha ABS Repair Kit Add to Cart $159.99
Can be used to repair any product made of ABS. Hotcha Repair Kit is what you need if your fairing has developed a crack. Works on any ABS fairing, which is about all of them, these days. Kit comes with enough adhesive (4 ounces of glue & 2 ounces of catylist) and scraps of ABS plastic to pretty much repair any problem.
---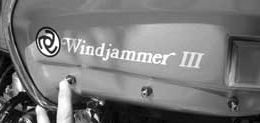 Lowers Mounting Kit for Vetter Windjammer fairings Add to Cart $59.99

Genuine Vetter lowers mounting kit.
---
Vetter Windjammer Snap Vents
Add to Cart $79.99 pair


click to zoom photo
These vents are made so they will not change to a yellowish color after 20 years of use, made of polycarbonite, won't break either. Also see installation (QuickTime video).
---
Vetter Tail Trunk Bunkees set of 4
Add to Cart $59.99


click to zoom photo
To mount your Vetter trunk with rubber isolators with self-locking nuts. See tail trunk installation instructions.
---

Used Vetter Rubber Headlight Cover
None available.


click to zoom photo
For covering your head lamp container after installing the Vetter fairing. Keeps your wires dry. Fits 7 inch diameter headlight shells.

---
Turn Signals (blinkers)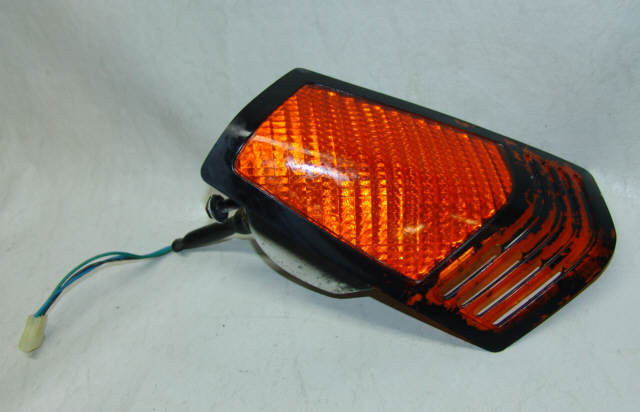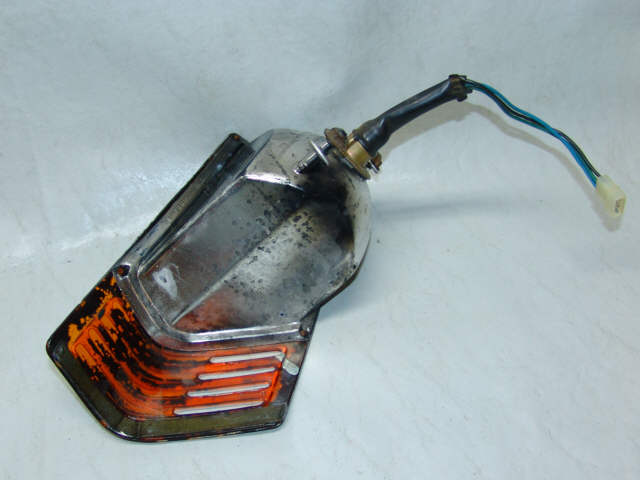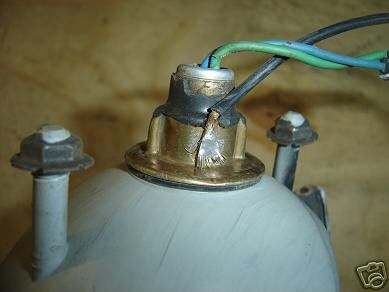 click to zoom photo
Used Left Turn (LH) Signal Assembly out of stock
Used Right Turn (RH) Signal Assembly out of stock
Fits Windjammer IV, V & SS fairings. Please note when ordering: The right side is always the throttle side. New signal assemblies are no longer available. Please email us which side you need (very rare, hard to find part)
---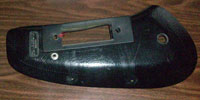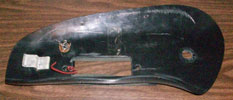 Used Vetter Locking Right Side Compartment Cover Add to Cart $24.99
Cover comes as shown. Has slot to install radio and antenna.
A new lock with keys is available above.
---
Headlights
See Headlight, available in 7 inch or 5.75 inch diameter, H4 or H3 sealed-beam. 7" headlights are standard on the Kawasaki Z1, KZ900, KZ1000 motorcycles and Vetter fairings.
---