HANDLEBAR & CONTROLS
1976-77 Kawasaki KZ900 A4 / A5
Ref
OEM
Part Name
Req
Each
1
46076-049
Lever Assembly, Clutch (46076-054)
1
Kits
2
46092-023
Lever, Clutch. Also fits H1, Z1, KZ900, KZ1000 fits these models.
1
$9.99
3
92007-047
Bolt, Hex Head
1
4
46056-005
Nut-Lock
1
5
46055-003
Screw Cable Adjust
1
6
46094-017
Holder, Clutch Lever
1
7
92017-014
Nut, Lock 6mm
1
8
411B0600
Washer Plain 6mm
1
bolt sets
9
112B0622
Bolt 6x22 (112G0622)
1
10
92001-1405
Bolt 8x40
4
11
461F0800
Washer Spring 8mm
4
bolt sets
12
46012-008
Holder - Handlebar
2
13
46003-029
Handlebar
1
14
46075-028
Rubber, L.H Grip
1
Kits
15
46091-1079
Housing Assembly, Cont, L.H (fits)
1
Kits
16
221B0308A
Screw Counter-Sunk Hd 3x8
1
17
46044-013
Knob, Lighting Switch LH
1
18
220B0305A
Screw Pan Head 3x5 (92009-1123)
2
19
46043-005
Knob, Lighting Switch LH
1
20
46028-006
Button, Horn Push
1
(See
Ref #32)
21
220B0530
Screw Pan Head 5x30 (switch mount screws)
2
Kits
22
220B0535
Screw-Pan-Cross
2
bolt sets
23
46091-1033
Housing Assembly, RH Cont (fits)
1
Kits
23
46091-1039
Housing Assembly, RH Canada
1
24
46019-038
Grip Assembly, Throttle
1
25
46043-004
Knob, Lighting Switch RH US
1
26
27010-1009
Switch Assy, Horn Button
1
27
27010-1009
Switch Assy, Horn Button (See Ref #32)
1
28
27010-1009
Switch Assy, Horn Button
1
29
56001-1030
Rear View Mirror (1 mirror fits left or right side)
2
Kits
30
46089-014
Switch, LH
1
Kits
32
27010-1009
Switch Assembly, Starter Button
Includes Ref #26-28
1
$14.99
Chrome Handlebar Bolt Kit 92001-1405 see bolt sets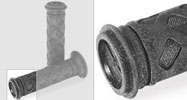 Handlebar Grips - Super Grip 699 Gel (black, closed-end) $19.99
Fits all motorcycles with 7/8" handlebars.
Handlebar Grips $14.99 Rubber Cushioned, close-end.
Handlebar LH Control Switch Assembly $79.99 46091-1079 HOUSING ASSY,
CONT, L.H. 1973-75 Z1, 1976-77 KZ900, 76-80 KZ750 B & G1 models.
Handlebar Switches Screw Kit $2.99
220B0530 / 220B0535
Replace those rusty old screws with new stainless-steel. Includes enough screws/lock washers to mount both LH & RH control switches. Fits many KZ models.
Handlebar RH Control Switch Assembly $79.99 46091-1033 HOUSING ASSY, CONT, R.H. 76-77 KZ900 A4 / A5 / B1, 76-79 KZ750 B1 / B2 / B3 / B4.

Clutch Lever $9.99
Fits KZ900, Z1 and KZ1000 models.

Front Brake Lever 43029-003 $9.99
Also fits H1, Z1, KZ900, KZ1000 and these models.
Clutch Perch Assembly without lever $29.99
Has 10mm thread for mirror mount. Can also be used on mopeds and project bikes that have a 7/8" handlebar. 1 left.
Used OEM Black pair of Mirrors 56001-1030
USED-PART $39.99
Good condition, from a KZ900 A.