Classic Laverda Emblems

Also see, Gas Tank Emblems,
Side Cover Emblems below & Decals
These emblems are new and made of cast chrome metal, but we don not supply the clips. I suggest they are best attached with double sided tape, silicone glue or

E-clips. The mounting pins are a little larger than the stock emblems from Kawasaki but are much stronger. These emblems add a nice bright smooth chrome look and won19t break like the original plastic emblems do. One emblem fits either side unless otherwise noted. Please allow at least 14 days for delivery, except where noted. Some emblems are currently on back order. Reserve yours today! These emblems are sold the same day they come in. One emblem fits either side unless otherwise noted. These emblems do not stay in stock very long. Reserve yours today! Emblems fit either side unless otherwise noted. Some emblems have an ETA of 18 days. We normally have KZ900 emblems in stock.
These badges are not bendable
Some folks have asked why the colors look different, like the orange looks red and vice-versa. Your monitor may not be calibrated correctly to display true colors.
LAVERDA Gas Tank Emblems

Price each unless noted

LAVERDA Emblem LT01 Add to Cart $79.99 each
Chrome 'Flag' Tank Badge

.
LAVERDA Emblem LT02 Add to Cart $79.99 each
Gold 'Flag' Tank Badge

LAVERDA Emblem LT07 Add to Cart $79.99 each
1200 Anniversary model
Gold/Black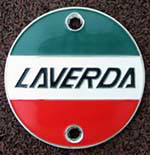 LAVERDA Emblem LT04S Add to Cart $79.99 each
Chrome Tank Badge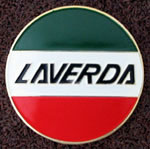 LAVERDA Emblem LT05 Add to Cart $79.99 each
Gold Tank Badge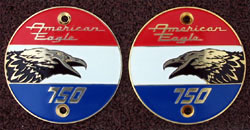 LAVERDA American Eagle 750 Emblem LT06L
Add to Cart $79.99 each
Gold Tank Badges for American Eagle models, Left or Right-sided
LAVERDA American Eagle 750 Emblem LT06R
Add to Cart $79.99 each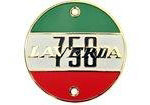 LAVERDA 750 Emblem LT08S
Add to Cart $79.99 each
Gold Tank Badge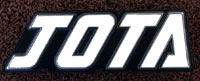 JOTA Side Cover Emblem LS01
Add to Cart $79.99 each
Black/White/Chrome Jota Sidecover Badge
JOTA 120 Side Cover Emblem LS02
Add to Cart $79.99 each
Black/White/Chrome Jota 120 Sidecover Badge
RGS 1000 Side Cover Emblem LS03
Add to Cart $79.99 each
Gold RGS1000 Sidecover Badge

1200 Side Cover Emblem LS04
Add to Cart $79.99 each
Black/White/Chrome 1200 Sidecover Badge

1200 Side Cover Emblem LS16
Add to Cart $79.99 each
1200 Anniversary model
Gold/Black

1000 Side Cover Emblem LS05
Add to Cart $79.99 each
Black/White/Chrome 1000 Sidecover Badge

1000 Side Cover Emblem LS06
Add to Cart $79.99 each
Chrome script 1000 Sidecover Badge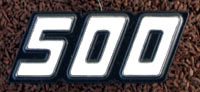 500 Side Cover Emblem LS07
Add to Cart $79.99 each
Black/White/Chrome 500 Sidecover Badge

750SF Side Cover Emblem LS09
Add to Cart $79.99 each
Chrome Script 750 SF Sidecover Badge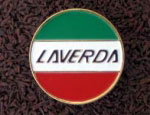 LAVERDA Side Cover Emblem LS10
Add to Cart $79.99 each
Gold small round Sidecover Badge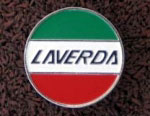 LAVERDA Side Cover Emblem LS11
Add to Cart $79.99 each
Chrome small round Sidecover Badge

MIRAGE Side Cover Emblem LS12
Add to Cart $79.99 each
Black/White/Chrome
Mirage Sidecover Badge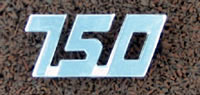 750 Side Cover Emblem LS13
Add to Cart $79.99 each
Chrome script 750 Sidecover Badge

1200 Side Cover Emblem LS14
Add to Cart $79.99 each
Chrome script 1200 Sidecover Badge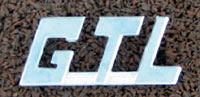 GTL Side Cover Emblem LS15
Add to Cart $79.99 each
Chrome script GTL Sidecover Badge

More Badges

LAVERDA Emblem LF01
Add to Cart $79.99 each
LAVERDA
RGS1000
Fairing & rear cowl
Gold/Black

CORSA Emblem LF02
Add to Cart $79.99 each
CORSA
RGS1000 Corsa
Fairing & rear cowl
Gold/Black