Use this button if our shopping cart is not working for you.
z1e z1f
Air Cleaner/Mufflers
air ducts, air cleaner screw kit, air filter, air box.

Cables
clutch, Speedometer/Tachometer cables.

Cam Chain/Tensioner
cam chain, tensioner, idler, damper guide roller.

Camshafts/Valves
cam shaft, valves, springs, seals, shims.

Carburetors
carbs, parts, rebuild kits, gaskets, jets, floats.

Chassis Electrical
fuse box assy, wiring harness, hazard, horn.

Clutch
friction plates, push rod, springs.

Crankcase Bolt/Stud Pattern
crankcase bolts, studs, washers.

Crankcase/Breather/Cover
breather cover body, filler cap.

Cylinder Head Cover
carb holders w/vacuum plugs, gaskets.

Cylinder/Piston/Crank
cylinder barrel, pistons, rings.

Engine Covers
covers, bolts, gaskets.

Fenders
fenders, tail, grab bar, bolts.

Footrest/Stands/Brake Pedal
side & center-stand, foot pegs.

Frame/Fittings
frame, steering head, battery box, tool case.

Front Brake
front caliper, disk.

Front Fork
fork lock, triple-tree, springs.

Front Hub
speedometer gear, axle, bearings.

Front Master Cylinder
brake lever, bolts, hoses. clamps.

Fuel Tank
fuel cap, petcock, strap, dampers, emblems.

Gear Change Mechanism
lever, return spring.

Generator / Starter Motor
motor, relay, clutch kit, stator.

Handlebar
clamps, lever, switches, mirrors.

Headlight
sealed-beam, H3, H4, rim kit, shell, screws.

Ignition/Reg/Rectifier
spark advancer, contact points, coils.

Kick Start Mechanism
lever, shaft, spring, gear.

Meters/Ignition Switch
speedometer/tach guages, covers, harness.

Oil pump/filter/Pan
oil filter, pan.

Owner Tools
cable luber, tool kits.

RearHub/Brake/Chain
sprocket, drive chain, bearings.

Seat/Chain Cover
Seats, seat pin/latches, chain cover.

Side Covers
for Z1, KZ900, KZ1000.

Swing Arm/Shocks
and chain adjusters.

Tail Light
lens, bulbs, socket, tail assy.

Transmission/Change Drum

Turn Signals
lenses, hardware.

Wheels/Tires
spokes, nipples, rims, tire specs.
Shopping? Click here to go back 1 page
To add a part to the shopping cart, click on the price link or Add to Cart link.


Many parts have been added to our site by customer requests. To request a part, send us an email. Even if your bike is not a KZ900 you can still find parts with the links below and use as a reference to find the parts you need. If you need to return a part or need other resources, please see the links at the bottom of our web pages.

Welcome to KZ900.com!

New & Used Classic Kawasaki Parts
Specializing in Classic 1972-80 Kawasaki Z1, KZ900 & KZ1000 models
If it doesn't say "used" then it is "new"
Questions, email us

from top-right corner of this page.

Motorcycle Decals / Stickers


Aermacchi Chaparall
Lambretta Simplex

4 ways to search for parts
1) Clicking a letter at the top of our web pages are Kawasaki parts sorted by part name
2) Click an area on the bike below to find the part you need
3) Search by name or part number (easiest). When you find the page, use keyboard shortcut "control F", to find text or part number on that page.
4) Find a part in the KZ900 A4/A5 Part Finder. Parts for other Kawasaki models can also be found in the part finder. The part finder is actually just a drop down menu showing chapters of the OEM Parts Manual for the KZ900 A4/A5 model. Can be used also as a reference in case your bike is a different model. If you need an OEM parts manual for your bike, see our Books section. You may also find more books here on the Z1 History, Vetter parts, accessories & instructions and more. All parts we sell are new, NOS or unless it says "Used." If you still cannot find what you need, email us.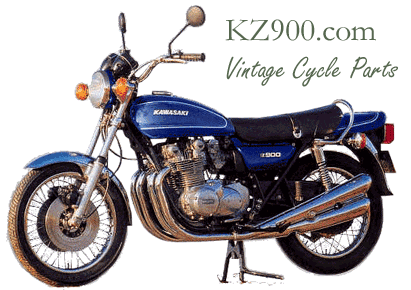 1976 Kawasaki Z900 A4
TIP: Be sure your browser is not blocking pop-up windows from kz900.com or paypal.com. You'll see your shopping cart in a new window or tab every time you click on the Price $19.99, View Cart or an Add to Cart link (control-click usually works to bypass a popup blocker). If you are new to using the internet or are having problems with our site, just ask us. Our email link is located in the upper right corner of every page. New & used products are added to our site weekly, so check back again. All of our web pages are set to reload automatically after 10 minutes. To reload a web page manually, press F5 or control F5 on the keyboard (overwrites the cache/updates the current web page you are looking at).

is also related to these sites
Everything we have is not listed on our site especially used parts. If you can't find it or having trouble, send email (upper right corner). If you have any problems with our site or suggestions, please let us know.
Shopping cart notes: If your basket contains any out of stock items, please allow at least 7 business days for delivery, unless otherwise noted. A tracking number will be emailed to you when your order is mailed. If you did not receive a tracking # you may request one here. Some items may take longer to receive depending on availability. Any other questions you may have go here for our policies and other ways to contact us. Also see our Books link to find lots of information and also free references about your Kawasaki.
1976 KZ900A4, 1977 KZ900A5, KZ1000, KZ1000A, KZ1000B, KZ1000D KZ1000E, KZ1000G, KZ900A, KZ900B, Z1, Z1A, Z1B